Sen. Bryant relaunches Valentines for Seniors
As Valentine's Day quickly approaches, State Senator Terri Bryant (R-Murphysboro) is once again launching her "Valentines for Seniors" card drive to help uplift the spirits of long-term care and assisted-living facility residents.
Sen. Bryant is encouraging churches, schools, and community members of the 58th Senate District to write Valentine's Day cards that can be dropped off or mailed to her district offices. Once all the cards have been collected, they will be delivered to the various long-term care facilities that make up the district.
Cards can be dropped off from now until February 7th at Sen. Bryant's Murphysboro and Mt. Vernon district offices, which are located at 1032 W. Industrial Park Road, Murphysboro, IL 62966 and 2929 Broadway St., Suite 3, Mt Vernon, IL 62864.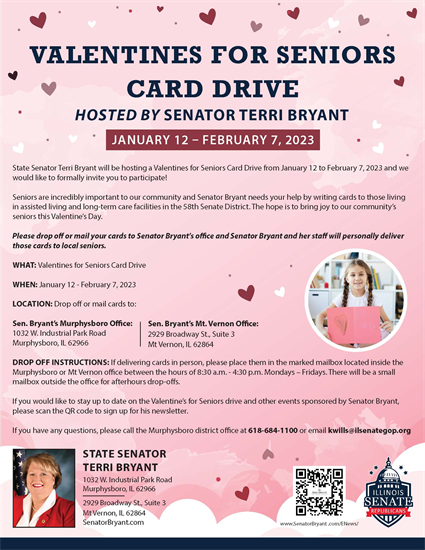 Senate Republicans Stand Firm Against Progressive Tax Hike
On Jan. 25, Senate Republicans held a press conference to call attention to the issue of a progressive income tax scheme. This issue was raised once again in response to recent public comments on their desire to switch the state from a flat income tax to a progressive system.
Illinoisans went through this same process in 2020, when Democrats began discussing different plans for implementing a progressive income tax. Legislation was filed and a proposal was placed on the 2020 general election ballot for voters to support or reject. To adopt the tax, voters would have had to repeal Illinois' constitutional requirement of a flat rate. The proposal was resoundingly rejected by voters, but that hasn't stopped Democrats from talking about restarting the campaign.
In response, many lawmakers announced Jan. 25 that they stand firmly against efforts seeking to propose another progressive income tax.
Senate Republicans have worked together to craft a resolution that rejects any further attempt to raise taxes through a constitutional amendment instituting a progressive income tax.
Senator Terri Bryant has warned about the potential for tax hikes through a progressive income tax and she continues to oppose the idea. Rather than seeking to raise taxes for Illinois residents, the Governor and his allies should focus on living within the budget and not overspending.
Planned SNAP Reduction Scheduled for March
Under direction from the federal government, the Illinois Department of Human Services (DHS) will be returning SNAP benefits to pre-pandemic levels. Since April 2020, an emergency SNAP allotment was added to the regular monthly benefits to address the worsening food insecurity challenges resulting from the COVID-19 pandemic. DHS recently announced that the extra benefits will be ending in February and will no longer be applied officially by March 1.
The estimates right now are that this return will result in a decrease of the monthly benefits of between $95 to $255 per household. In an effort to try to reduce strain on households, DHS has put together a resource page for constituents who may need assistance in managing this reduction in funds.
Furthermore, DHS has said the Department will be working closely with various communities and organizations to develop additional support and resources for families struggling with this reduction.
Nominations for Senior Hall of Fame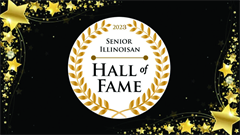 The Illinois Department on Aging is accepting nominations for 2023 inductees to the Senior Illinoisan Hall of Fame. This honor is open to adults ages 65 or older who excel in the categories of community service, education, performance and/or graphic arts, and the labor force.
Each year, four people are added who have contributed greatly to these fields. The nominations are open until June 1, and anyone can nominate a candidate. Additional information on the process, the online nomination form, and a printable version of the nomination form is available on IDoA's website.
The process to nominate someone for the Senior Illinoisan Hall of Fame is relatively easy. Nominators must submit an application with five questions that detail the nominee's contributions and provide a photo of the nominee. The pool of nominations will then be reduced to a list of 44 people. From this list, a panel of judges will select the final four to be added to the Hall of Fame. Generally, one person is chosen to represent each individual field, although occasionally more than four people are selected.