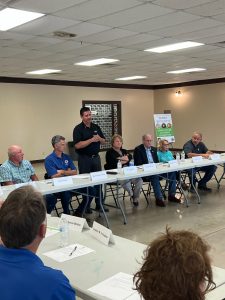 As part of her ongoing efforts to encourage dialogue about agricultural issues between industry leaders and government officials, State Senator Terri Bryant (R-Murphysboro) hosted her first-ever Agriculture Advisory Committee meeting on July 14 at the Du Quoin State Fairgrounds.
The group, which was comprised of farmers, farm bureau representatives, and other leaders in the agricultural field, discussed ways Illinois officials could better support farmers and the agricultural industry.
"The agricultural industry is a vital part of Illinois' economy that employs nearly a million people and generates more than $19 billion annually," said Sen. Bryant. "It's important to me to meet with the people who have first-hand knowledge on the issues that impact this critical industry, so that I can do my best to effectively represent their interests in Springfield."
Sen. Bryant's Agriculture Advisory Committee was organized to give local farmers, farm bureau representatives and other agricultural industry leaders within the 58th Senate District an opportunity to ask questions, discuss issues and offer proposals on how lawmakers can create better agriculture policy. Additionally, Illinois Department of Agriculture Director Jerry Costello was present to answer questions from members.