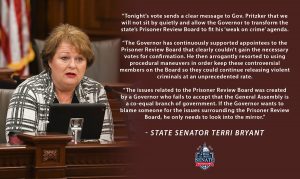 After the Governor's procedural maneuvers to allow his Prisoner Review Board appointees to continuously serve without undergoing the constitutional required confirmation process, the Illinois Senate has voted to deny confirmation for two appointees over the last two weeks. State Senator Terri Bryant (R-Murphysboro) released following statement in response to tonight's confirmation vote:
"Tonight's vote sends a clear message to Gov. Pritzker that we will not sit by quietly and allow the Governor to transform the state's Prisoner Review Board to fit his 'weak on crime' agenda.
"The Governor has continuously supported appointees to the Prisoner Review Board that clearly couldn't gain the necessary votes for confirmation. He then arrogantly resorted to using procedural maneuvers in order keep these controversial members on the Board so they could continue releasing violent criminals at an unprecedented rate.
"The issues related to the Prisoner Review Board was created by a Governor who fails to accept that the General Assembly is a co-equal branch of government. If the Governor wants to blame someone for the issues surrounding the Prisoner Review Board, he only needs to look into the mirror."