On Dec. 7, over 30 high school students from 16 schools across the 58th Senate District gathered at Southern Illinois University – Carbondale (SIU) to participate in State Sen. Terri Bryant's (R-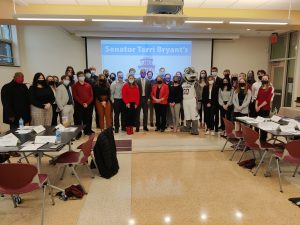 Murphysboro) first-ever Youth Advisory Council.
"It was truly exciting to see the students focused and engaged throughout the entire day," said Sen. Bryant. "I am hopeful that today's Youth Advisory Council provided these students with a better understanding on how our state government works, but more importantly I hope they learned that each of them have a voice in the process."
Sen. Bryant's Youth Advisory Council is a hands-on experience designed to teach local area students about public policy, state government, and leadership. Each high school within the 58th Senate District was able to nominate high school students that they believed showed an interest in government and public service.
"I believe it is important for the youth of today to get involved in government because we are the future," said Brandon Scott-Rivers, student at Carbondale Community High School. "Since we are the ones that are going to be taking over as time goes on, it is important that we learn about what we can do to change the future for all of us."
In the morning students heard from successful community leaders, including Murphysboro Mayor Will Stephens, Jackson County State's Attorney Joseph Cervantez, and SIU Chancellor Austin Lane.
"I thought the State's Attorney was great and he posed a lot of great solutions," said Katie Harr, student at Dupo High School. "He definitely was a very activist person. He not only saw that there were issues in the society, but he tried to make a change in them and I think that is something that is really respectable about any person."
Students then broke off into groups, where they were asked to work together to develop ideas for possible new state legislation that each group would present to the council for a vote.
"I've always had a deep fascination with politics and the inner workings of political systems," said Lucas Schilling, student at Valmeyer High School. "I really thought this would be a great opportunity to get involved, come up with a bill idea and potentially make an impact in our communities."
Sen. Bryant spent time during the group discussion with each small group, helping students with their proposals and how they could advocate for their issue. When the students presented their ideas, Sen. Bryant helped spur along further debate by asking the groups questions about their legislation.
"I wanted to take part in this because it would give me a lot of insight on something I didn't know a lot about," said Aumalie Murdock, student at Woodlawn High School. "I also wanted to meet and talk to Terri. After talking, I learned that she is someone who definitely wants to help me and further may career."Sen. Bryant's Youth Advisory Council will meet for a second time this spring at the State Capitol, where the students will participate in a mock committee hearing based on the legislation they chose at this week's meeting.